Penis Traction for Penis Enlargement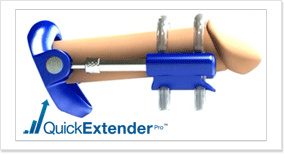 There is nothing wrong with wanting more and penis traction can help. The Quick Extender Pro penis traction device is offered in 3 exclusive packages and covered by a full satisfaction money back guarantee. Each Quick Extender Pro penis traction system is designed with your comfort in mind, using the unique and exclusive DSS (Double Strap Support) system for maximum traction. Based on the science of penis traction, the Quick Extender Pro will exert a gentle and controlled amount of tension allowing you to wear the device all day long with complete peace of mind and superior comfort.
The Quick Extender Pro is designed with a unique swivel system allowing 180 degree movement giving you the freedom to wear the device on the go wherever you may be. The Quick Extender Pro package contains everything you will need to get started to a newer, happier and more confident you!
What Make Us Different
While other penis traction devices use flat straps (similar to a bulky band aid), the Quick Extender Pro is the only penis traction system to provide men with a dual support glan support for quicker penis enlargement and a more comfortable overall experiance. The Exclusive DSS system make it a more reliable and effective penis traction device to maximize your satisfaction.
This exclusive innovation radically increases traction, aids in blood circulation and maximizes comfort between all 3 unique packages. With our advanced system you finally have the freedom to be the man you've always wanted, safely and quickly.
How Does Penis Traction Work
The Quick Extender Pro penis traction device is based on specially calibrated tension. This exclusive device is the only one of its kind that allows the wearer to comfortably add or reduce the amount of tension to their penis.
Quick Extender Pro values the highest standards and prides itself of on its industry setting quality engineering to give you a modern, elegant and sleek design completely free from defects.
Each package is backed by a limited or lifetime warranty at no additional cost to ensure you get only the highest quality penis traction system.
Questions and Penis Traction Information
Our highly knowledgeable 24/7 Customer Service staff is available to answer any question any time of the day. If you would like to place an order, have questions about penis traction or need product support, one of our highly trained professional staff is standing by ready to assist your needs
John L. says:
The Quick Extender Pro was the best priced system out there.
Mike F. says:
What an amazing product you guys sell. I gained 2 inches with this Quick Extender Pro.
Suzan C. says:
After hours of research on your website about penis traction I decided to buy a Quick Extender Pro for my husband.
read more
Order Now!